Use eGifts to make a contribution to the PMC.
Friday Night
The weekend always starts in Sturbridge, MA where this year over 2000 riders including my friends Jon, JohnnyK, and Andy, gathered Friday night to eat a BIG dinner (think pasta!) and listen to the guest speakers. The most amazing was the man who had just finished riding around the perimeter of the United States, over 10,000 miles, and had raised $100,000. The PMC must have looked like just couple of days on the road to him. Billy Starr, who runs the event, read the very moving fundraising letter from a woman whose father died while riding the PMC last year when he ran into a truck. He was an attorney and tri-athlete who believed very strongly in supporting charity. His daughter felt that he would have wanted her to do the ride, and knew his spirit would be with her every mile from Sturbridge to Provincetown, urging her to go on. So far she has raised almost $40,000.

All the time while we were listening to these inspirational speeches, there was a torrential downpour going on outside, accompanied by lightning and thunder. This happened a few years ago, bringing clear, dry weather on Saturday. So we walked through the rain back to our hotel, hoping for good conditions.

As a side note, my roommate was a friend from Cadence days, Jon. Our hotel parking lot was filled with antique cars – it turns out there was an Avanti car club event there. (For those of you not in engineering, Cadence is having bitter lawsuits against the software company Avant!, no relation to the Studebaker successor.) Jon felt like Henry Ford, surrounded by Pontiacs.

Saturday
Saturday morning Jon and I woke at 4:30am. He showed me some amazing bruises on his backside, which he acquired on a ride with me a few weeks earlier. He discovered that a 1-inch tire couldn't easily hop a 2-inch rut in the road. Luckily that day there was a doctor and a rabbi with us, so we were ready for any circumstance. Hopefully the PMC would be less eventful.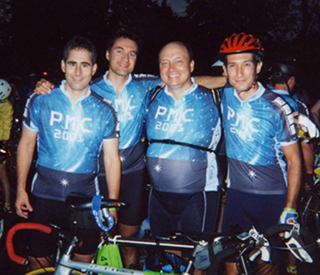 At the starting line, the previous evening's storms had left us with a warm, damp morning. We started at 6am, 2000 riders rolling down Rt. 20 into the cloudy morning. (Another 1000 left at 7am from Wellesley.) We were spread across the road, lead by Sturbridge and Charlton police cars. Some how a semi-truck got in the pace line too, like an elephant in a pack of zebras. (We all wore jerseys with a 2001 motif, black, white, and blue.) A highlight of the first day is always the bagpiper who plays for us at the top of the first hill. It is surprising how motivating a mournful song can be. I have a mini-license plate from Alaska on the back of my bike and was spotted by one of the two riders from the "Last Frontier".
After 90 minutes, I was feeling good, trying to not think of the 80 miles left, when a pair of tandems flew by. Not thinking of conserving energy, I joined on the back of the pace line. A tandem bike has the wind resistance of a single bike, but twice the leg power. Even two average riders can go faster than the strongest racer. These dual husband and wife teams were strong, and when drafting each other, were capable of extreme speed, flying up and down hills. Rain started and still they hammered. Our first stop was for "lunch" at the 60-mile mark, but at 9:30am we only ate a little. No one gets dehydrated in a downpour. A peanut butter and jelly sandwich goes down real fast.
The rain grew heavier and took its toll. The most annoying problem was the constant spray of water and road grit thrown off by the rear tire of the bike in front of me. While I wanted to stay in close for the best aerodynamics, I had to stay offset by a few inches or I would get a face full of sand. This lead to the next problem: visibility. My sunglasses were covered with water drops, so I had to depend on the riders in front of me to call out potholes and turns. Removal of my glasses led to an eyeful of slurry. Rumbling of thunder added to the excitement. Balancing all this was the speed, wonderful speed.
Finally, the tandems stopped at the 100-mile mark. After several hours of unnerving speed but little effort on my part, I was aching to push myself hard, not to rest. I attacked in the last 10 miles, "pulling" several groups of riders then sprinting away from the pack when the road opened up. Thanks to the tandems, I averaged 21 miles an hour for the day, a personal best. This is not a race against others, but I always like to see how well I have done. I was the 14th rider in Saturday.

Recovery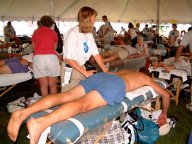 At the Mass Maritime Academy, in Bourne, by the Cape Cod Canal, the sun always comes out, though this year it was reluctant at first. I went into the shower with all my clothes, even my shoes, to rinse off the grit. Next was the wonderful massage, given by dozens of volunteer physical therapists. Then, with a contented smile, I went to greet my friends and help them with cleanup and repairs. Many people were coming in with scrapes, broken equipment, and dampened spirits.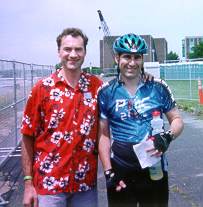 Here I am with Jon who still needs a shower. My motto is still, "speak softly, and wear a loud shirt."
What about Andy? He rides up to 5000 miles a year in the mountains of California, and usually in the lead pack All the rain had washed both the sand and glass across the road, and he had 3 flats. Plus, his group had no one to follow, and was lost for a considerable time. That is, when he was not being pummeled by hail, chased by a dog, or bumping into things. This is not the recipe for a happy ride!
Worse yet was JohnnyK who snapped his seat post. Suffice to say, if one second you are hammering along, and the next your behind is buffing the rear tire; a crash is unavoidable. Definitely not a happy ride. The one good part is that while he waited several hours for mechanics, the rain ended.
We, along with 3000 other riders, recovered that afternoon. The sun and warm breeze allowed us to fix any damages and eat constantly for about 5 hours, always a high point for me. The only negative was when JohnnyK asked me to see if he had any road rash on his backside. Why does everyone come to me?

Sunday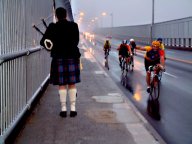 Sunday morning started on a more somber note. Up at 4am, we ate breakfast in a tent in the dark and then rode over the Bourne Bridge before the sun rose. New this year, the bagpiper was there on the bridge, even more eerie in the pre-dawn light. As the road curved back under the bridge, we could hear him a second time. On the Cape Cod Canal Bike Path I passed a man who had planned to ride a tandem with his nephew who had been undergoing cancer treatment. Unfortunately, his nephew passed away before the PMC, yet the rider decided to do the PMC as planned -- on the tandem, but as a solo rider.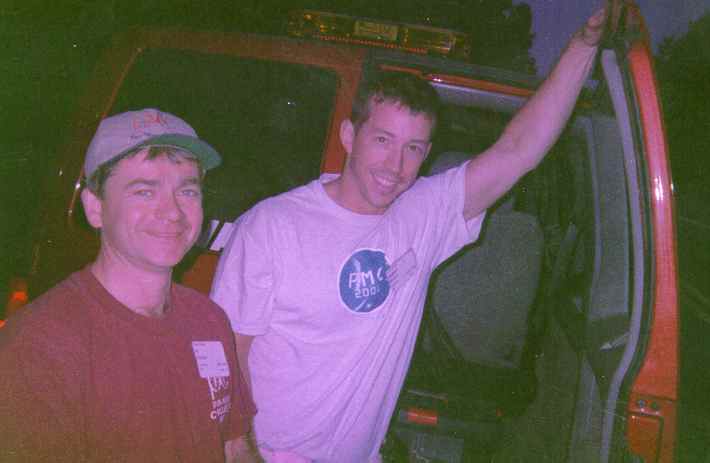 Things were going well until I noticed the rear tire going spongy. Luckily there are 1800 volunteers, including a large fleet of repair vans. One stopped and they slapped a new tube in before you could say, "latex or butyl?" (The picture was taken on a disposable camera with expired and it shows!)
Not long afterwards, the dual tandems passed me again, so I jumped on. What more could go right? As we rode through Brewster, a hundred kids at the Cape Cod Sea Camp cheered us on. At Nickerson Park, we got proof of why the PMC makes a difference. For the third year, the kid was back again. Well known to all PMC riders, he had been treated at the Dana Farber and carried a sign that said, "I'm 6 because of you." He is living proof of how we can make a difference.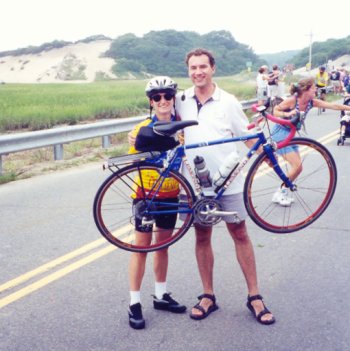 After a few more miles, my legs were toast from trying keep up with the tandems. They dropped me faster than a dot com company shedding employees, so I rode the rest of the day alone. My new bike with its softer ride didn't beat me up like my old one, but when your muscles are too sapped to race, you just keep spinning, rolling over the hills to Provincetown, and wave to passing cyclists. For the first time in years, I was too tired to sprint to the finish line. Andy's wife, Beth, is always there to take my picture (I am the only one with a red polka-dot jersey), so I took off my sunglasses and waved! The large crowd of volunteers, friends, and family cheer and clap for every rider, making us all feel fantastic. This is a picture of Nancy and me at the Provincetown Inn finish line.
Overall, Saturday's speed (okay, I was towed for 70 miles!) was balanced by Sunday's burnout. The hardest part is the fund raising, which is where you come in. My goal is $14,000 this year, and I thank all of my 130 sponsors. I do the ride but you make it all possible.
See Andy's writeup on the 2001 ride for more information and great pictures.