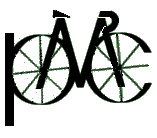 Use eGifts to make a contribution to the PMC. This year's Pan Mass Challenge was my best ever. Yes, I say that every year, and someday I'll crash or bonk, but even now, at 44, the ride just keeps getting better. I still don't know my final total, but the PMC gave the Jimmy Fund a check for $20,000,000 in October, 2004. See the NECN broadcast. (This is a 10mb Quicktime file.)
2003 Review
The story starts with the 2003 ride where about 3500 riders raised $17 million for the Dana-Farber Cancer Institute. Over the last 25 years, the PMC has raised over $122 million, which allows DFCI researchers to create new treatments, new cures for cancer. The DFCI techniques are used at hospitals all over the country and the world. Because of your generosity, this research is saving lives today. This is what the Pan Mass Challenge is all about! The Boston Red Sox sponsor the ride, thus covering much of the overhead. This means that even more of your donation (over 97%) will go to directly to research!

First, I would like to say "thank you" to several people. My family has given me time to train and fund raise. All you donors make it possible by writing those checks or using e-Gifts on the web. The PMC is supported by a large staff of volunteers, one for every two riders, and they make the ride seem easy.

This year's ride is dedicated to my son Tyler who had a nasty bike accident on the way back from an ice cream run in July. He fell over on his brand new bike and the chain ring cut into his leg, resulting in a trip to the emergency room (his third in a year and a half) and 36 stitches. In a few weeks he was all recovered, and enjoying camp, with a gruesome scar. Sadly, he is following in his father's footsteps.
2004 Training
I decided to try a new training plan this year. Roger Ninane, a coworker from our Paris office, wanted a new challenge. He has biked up all the highest roads in Europe, which peak at 9000 feet. We booked a trip to Colorado, where for a week we never went below 9000 feet. We climbed seven different passes in 6 days including Independence and Loveland which are both over 12,000 feet. And, on the seventh day, we headed for Mt. Evans. This is the highest paved road in the USA, at 14,400 feet. It was 14 miles to the top, and took about 2 hours. The view was phenomenal but the wind chill was close to 25º F. Roger's altimeter watch said that air pressure was 60% of sea level. On the descent, I shivered so much I could not steer straight and had to stop several times. This was like my training ride up Mt. Wachusetts in Mass, but 10,000 feet higher.
2004 Day 1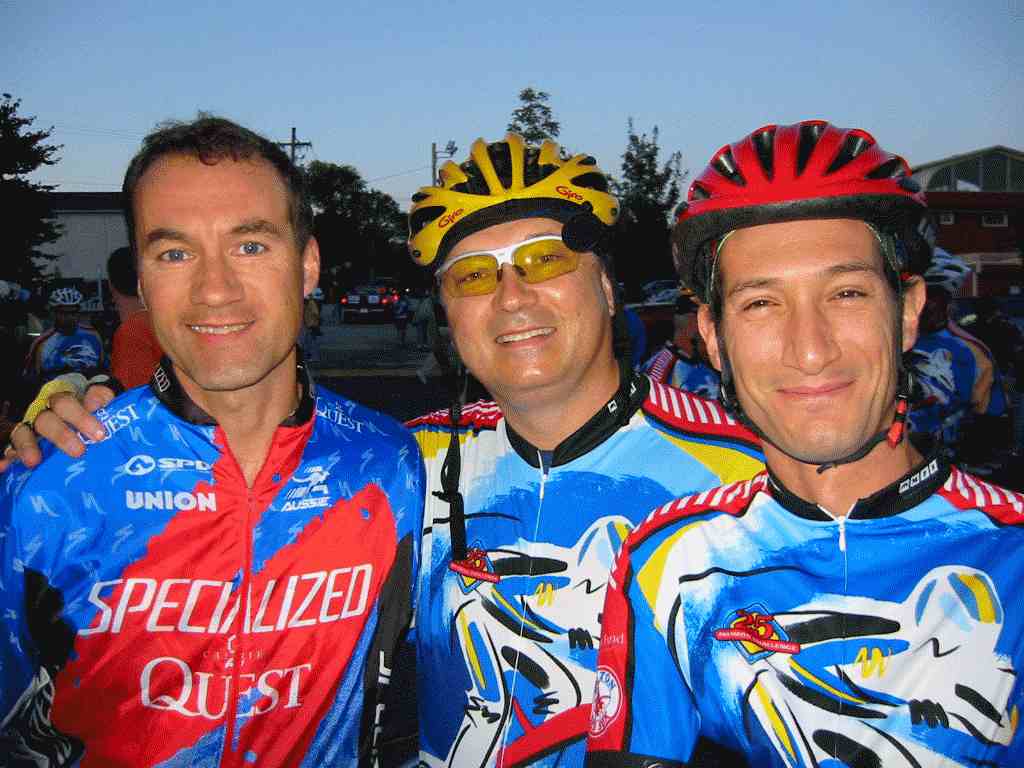 The forecast for the PMC weekend (August 7-8) was very similar to Colorado - clear, cool, and dry. I decided to try a technique from Roger: drink less and ride more. On Saturday morning I filled my two largest cycling water bottles (about 28 oz. each), stuffed my pockets with energy bars, a banana, and bagel. In Sturbridge, 2500 riders set off at 6am for Bourne, 110 miles away. It was only 53º, almost tropical compared to Leadville, CO. I rode with Andy, my long-time cycling buddy, and we drifted to the front of the pack, where he led the group on and off for a dozen miles. I kept back a few riders, saving my legs for the long morning ahead. Our group started around 25 riders, but a few dropped off at each of the water stops, every 20 miles. I nibbled on the bagel and sipped water as the temperature stayed low.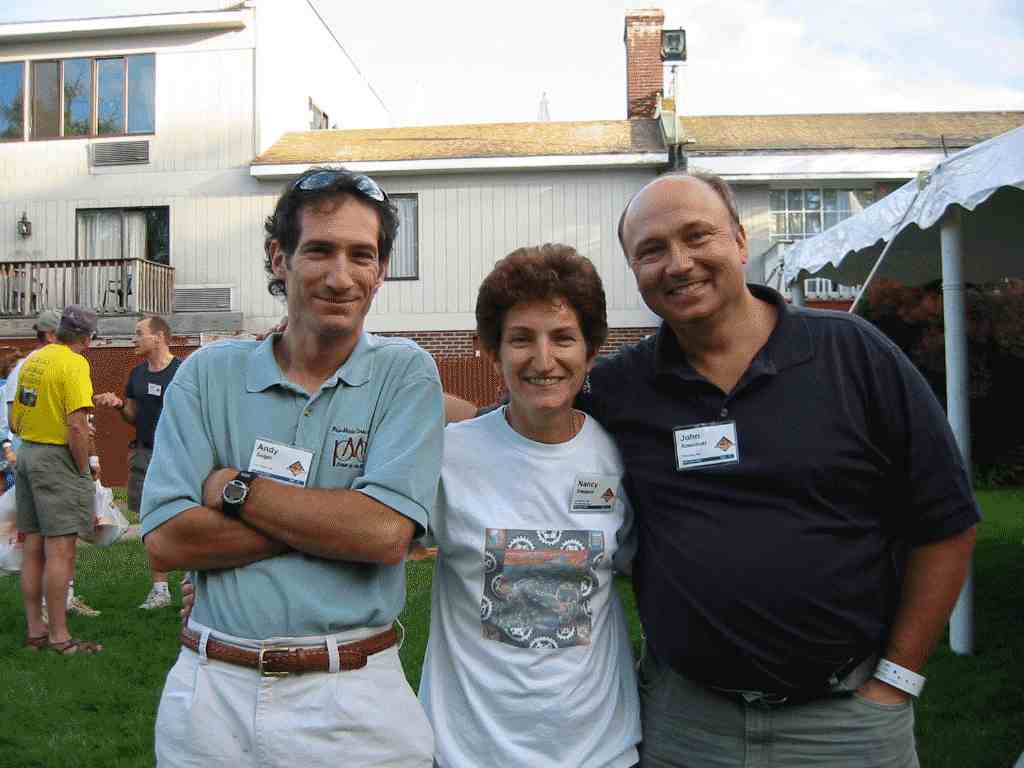 Around the 40-mile mark, we entered a construction zone, with gaps in the pavement and ledges up to 2 inches high. While easily negotiated in a car, a bicyle was no match. A rider to the right went down, and behind me, I heard the impact of another bike on new asphalt. Our group grew thinner.
A few miles later, a police officer on a motorcycle pulled out with his blue lights flashing and led our group. He sped up to reach every intersection, stopping traffic so we could coast through the stop signs. Finally, we came to a major crossroads with lights and turning lanes. He flipped on his siren, and was answered by the wailing of cruisers on either side so we could zip through while all side traffic came to a stop. This gave us a good rush of adrenaline at 9am.
By 11am we were down to just 10 riders. A PMC support van shadowed us, ready to come to our aid in case of flats or accidents. I had kept to the back of the pace line, where aerodynamics reduces drag about 30% - very important after 100 miles. But I was tired of being a parasite, and went to the front to take my turn. I got a dose of reality when the group left me behind after only a ¼ mile. My legs were too spent to keep up. When the support van passed me I knew I was not going to catch up. So I finished after the first 10 riders, having averaged 21.5 mph for 115 miles (we got a little lost in Seekonk) and no stops. This is my fastest PMC yet, not bad for 44 years old! Disclaimer: I don't recommend anyone ride this distance without stopping for water, food, etc. But it worked for me.
I spent the rest of Saturday at the Mass Maritime Academy in Bourne, eating and getting a massage from the volunteer physical therapists. You gotta love this ride! I hung out with friends, walked to help my legs recover and listened to music. By 8pm most everyone went to bed as reveille is 4:15am on Sunday. We were going to ride across Cape Cod, and had to beat the summer traffic. As I fell asleep to the sounds of snoring in a bunkroom with 30 guys, I recalled last year how a few lunatics woke up at 3:30am.
Early Sunday morning
This year was different. The lunatics woke at 3am to shower, dress, and pack for the big adventure. What fool showers at 3am, especially before embarking on an 80-mile bike ride? Not wanting to know, I tried to sleep in, but gave in by 4am. By 4:25, I had breakfast, thrown my bags on the bus for Provincetown, and was on the road, 15 minutes later than 2003.

There was a plan to this pre-dawn madness. Several co-workers promised to double their pledge if I came in first again. I rode over the Bourne Bridge in darkness thinking of the extra money for the Jimmy Fund. Some intersections were pitch black, rendering the arrows invisible. Luckily, after 16 years, instinct carries me along the route. My internal homing pigeon lead me along the Cape Cod Canal, under the Sagamore Bridge, along 6A and back roads until I finally saw the sun after 30 miles. I passed only five PMC riders (when did they start?) and refused help from several local riders who wanted to form a pace line. This was going to be a solo effort, all the way.

I stopped briefly in Wellfleet where my cousins DJ and Jim came out to greet me, the first family on the ride since Allie was born and Laura had to stop volunteering. At the 60-mile water stop, I grabbed a PBJ sandwich and was still eating it when I hit the road, racing to P-Town.

Now the Pan Mass Challenge is not a race. There is no prize for coming in first, I kept reminding myself as headwinds slowed my Privincetown approach to barely a dozen miles per hour. A support truck led me across the rolling dunes of the Provincelands park. A half mile from the end, an approaching rider yelled, "You're number 1!" With this boost, I sprinted to the finish line, coming in 15 minutes earlier than 2003. It felt great!

I called Laura to tell her to tape my interview on New England Cable News. "Allie and her sleepover guests are watching a movie," she informed me. "SO???" Laura missed the start of my interview, and Allie kept switching to Cartoon Network, even as I explained to the newscaster that my family could not be there as Allie was born during the PMC, and her birthday party has priority. 15 minutes after I finished, a group of 8 riders came in.

After training for 2900 miles, taking the non-stop on Saturday and riding solo on Sunday, the 2004 PMC is over. We appreciate your donations, especially the patients at the Dana-Farber looking for the next treatment.