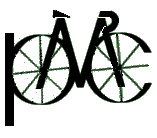 Make a contribution to the PMC
Before the big ride
As you remember, I started 2021 with a diagnosis of bladder cancer, and was nervous at first. My doctor, knowing that I am an engineer, gave me a treatment flow chart and showed me that my cancer was at the lowest level. My neighbor survived 19 years, even though he started at an advanced level. Looks like I'll be bugging you for donations for many decades!

Research showed that people who received the tuberculosis vaccine in their arm as a child were less likely to get bladder cancer. I asked my doctor who was the first person to say, "Hey, if you put a tube in here, and fill the patient with this serum, it might just work!" I've found that men are more squeamish about this whole regime than women. Making jokes for the nurses helped everything go more smoothly. Yikes!
Saturday: Stow-Newton-Wareham
The PMC was hybrid, with real water stops, but no start or finish lines. On Sat Aug 7, with 100 miles ahead of me, I left Stow at 5am. In Needham I connected with Jon, a 25-year veteran of the PMC. He had a hip replacement just 4 months earlier, yet still kept a strong pace. We rode through the backroads of southeastern Mass, meeting dozens of fellow riders. Many of them had a dozen or more streamers, each with the name of a friend or family member who passed away to cancer. Our first lunch was 9:30am, as we knew we would burn over 3000 calories before noon. Laura kept us well fed in Wareham, along with Moe who rode about the same distance, with his son, a new cyclist.
Sunday - on the road to Provincetown and a little more
We left on Sunday at 5am, knowing we had to cover 7 miles just to get to the traditional starting line at the Mass Maritime Academy in Bourne. Jon, Moe, and I sped along the bike path by the Cape Cod Canal, passing everyone. Then we turned inland to the Rt. 6 Access Road, an asphalt roller coaster. Jon was doing well until a spoke snapped on his front wheel. Luckily, he got the last spare wheel at the 20-mile water stop. We pushed on to Provincetown as he had an 11am ferry to make! After bidding Jon and Moe bon voyage, I rode another 20 miles back down to Wellfleet to meet Laura. Forget COVID, she didn't want to be exposed to the Provincetown traffic!