This year my ride for the Pan-Mass Challenge is dedicated to John Yuricek, my father-in-law who had surgery for prostate cancer. He is doing fine and has recovered from all the complications from the operation. Simultaneously, his brother-in-law Bob had the same spike in his PSA level, and will start treatment shortly. Hopefully it will go even better than John's experience.

Speaking of experiences, this past weekend's PMC started with a real eye-opener. On Friday I toured the Dana Farber Cancer Institute with my biking buddies, Andy and John. There we learned first hand about the entire range of on-going programs, from clinical research, bone marrow donations, family counseling, to long term follow-up that has led to reduced levels of chemotherapy. There are also special programs for teens who are going through enough stress already before being diagnosed with a life-threatening disease. It was very emotional hearing the stories of the kids who have survived and those who did not, but the best part is the ever-increasing success rates.
One of the golden rules of cycling is, "Never change equipment in the week before the big ride." Monday, before the ride, I broke a spoke on rear wheel, causing it to wobble badly. No problem, I'll just switch over to my lightweight wheels. When I tried to install them Tuesday night, I found that the hub had shattered while hanging in my basement. So much for plan B. Next I went to a local shop and had them build a new wheel from spare parts I had. (My basement looks like a used bike store!)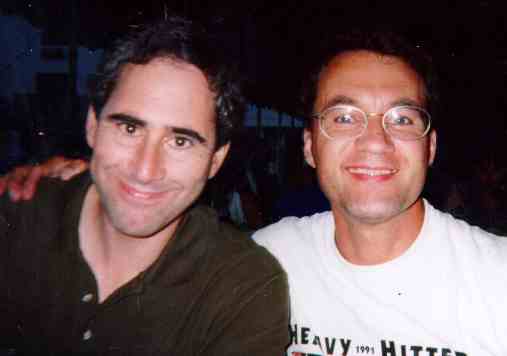 On to the ride! At the Friday night pasta dinner, the guest speakers were Larry Lucchino, President of the San Diego Padres, and John Cullen, a hockey player for the Tampa Bay Lightning. Both told of how they were treated at the Dana-Farber as adults, and how they would not be here today if it were not for the excellent doctors and facilities at the D-F, made possible in part by fund raisers such as the PMC. We also learned that the PMC now has a corporate sponsor, so that 95% of all donations will go directly to the Jimmy Fund to pay for cancer treatment and research.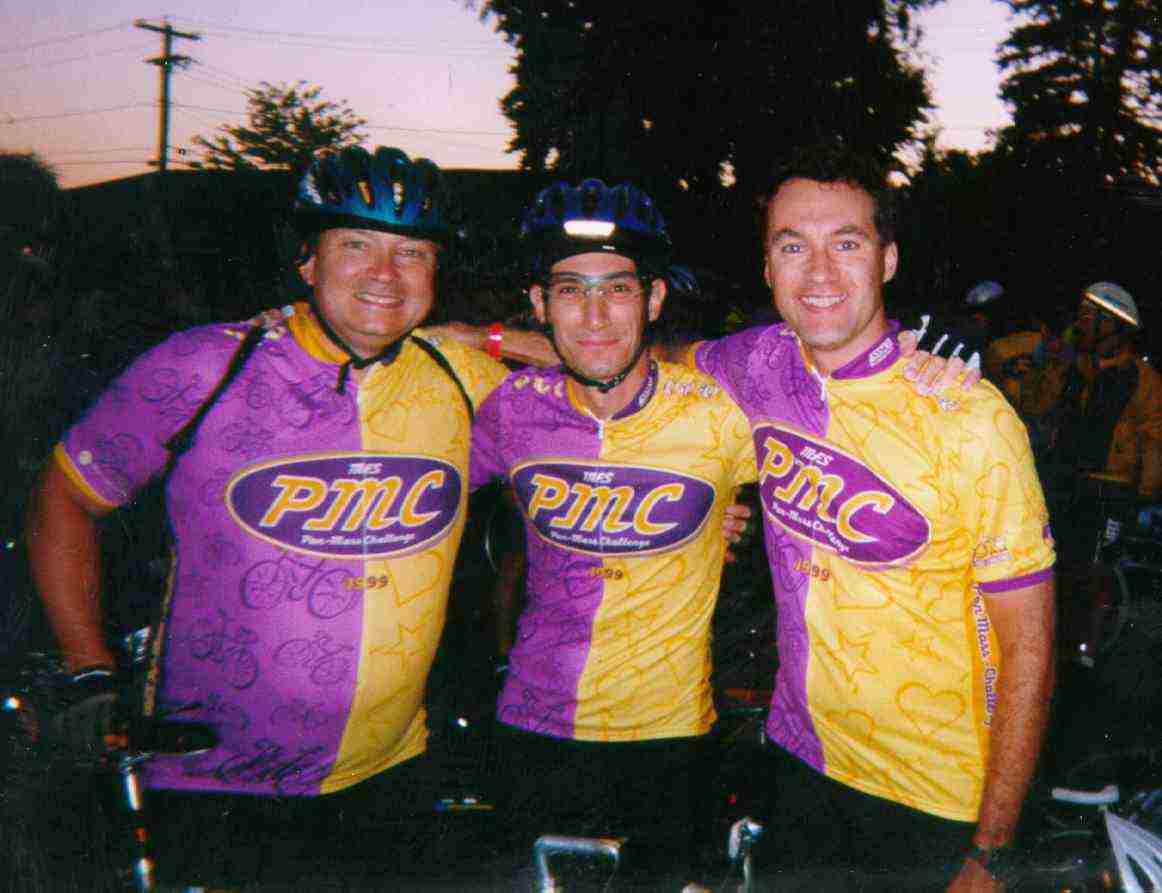 We had a new route on Saturday, taking us on less traveled roads from Sturbridge to Bourne by the Cape Cod Canal. The warm, dry weather was almost ideal, and I was riding extremely fast - until the pack I was in got lost. We missed a turn, but didn't realize it until we had gone down a long hill. Luckily one guy had studied the map and realized that we could cut over and only go an extra few miles, which would be preferable to climbing back up and looking for the arrows on the telephone poles. You should have heard the cheer we gave when we first saw our fellow riders on the course! As usual I burned out around the 80-mile mark, this year because of lack of training. (A month ago I combined a 40-mile bike ride with a hike up 4000 ft. Grouse Mountain in Vancouver, BC, thus over-stressing my knees so I had to take off a few weeks of riding.) I still managed to finish the longer ride (116 miles) at a faster pace than 1998.
Below is a view of the Mass Maritime Academy as seen from the ship where we spent Saturday night. There is a great view of the Bourne Bridge which spans the Cape Cod Canal.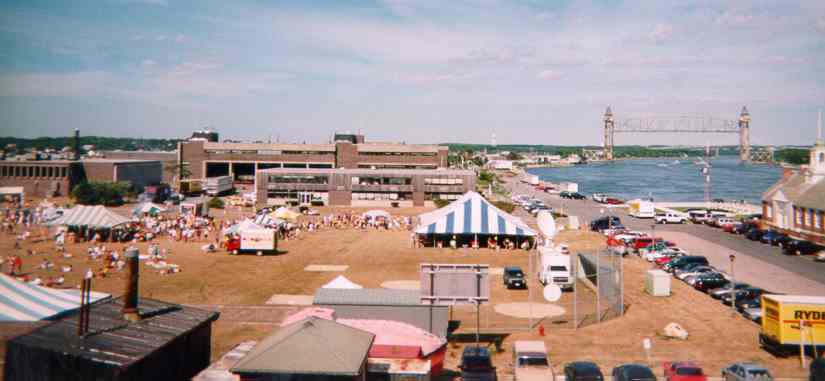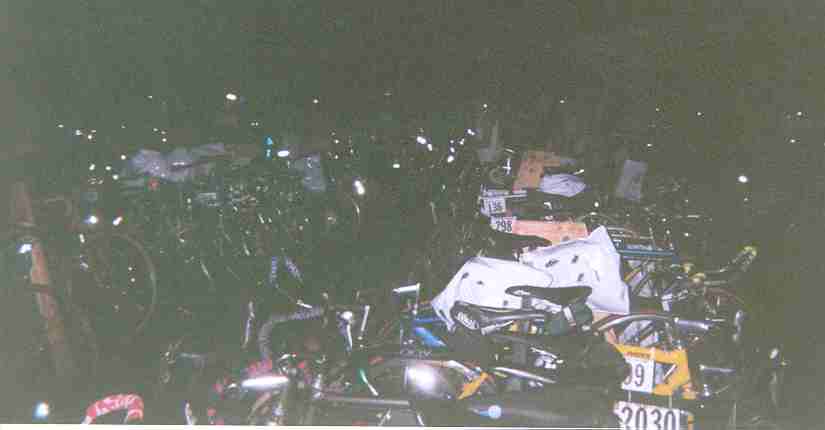 The Sunday start is more chaotic, in that all riders at the Mass Maritime Academy are woken at 4:15am. Everyone tries to eat breakfast, check their luggage, and pick up their bikes at the same time. I've learned to get out fast, and hit the road by 5am. Okay, it was rather dark as I rode over the Bourne Bridge, but I missed the breakfast lines. I also missed the pace lines for the first 10 miles, until I hooked up with 4 riders. We made one stop, at 40 miles for "lunch" at 7am. There was a little boy holding a sign that said, "I'm 4 years old because of you." It really puts the ride in perspective. On we went, back and forth, up Cape Cod to Provincetown.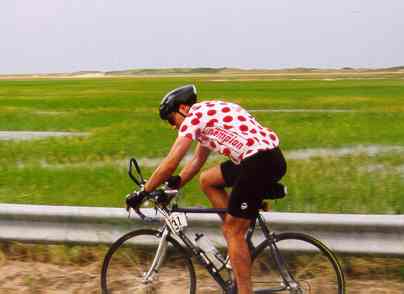 There was a strong wind blowing from the southwest, which pushed us along - until we made the final approach from the Province Lands to the finish line. With only 5 miles to go, my legs were toasted by the hills, and worn down by the 20-30mph head winds. I finished less than a minute behind the other riders. Turns out we were the lead group! New England Cable News interviewed the woman and 3 men (ages 46 to 49, including a grandfather), but I was too late. It was a personal best, and proof for me that the early bird gets the worm. Later I checked my new rear wheel and found that a spoke was completely loose, causing the rim to rub against the brakes every time it went around. No wonder I could not keep up with the lead group!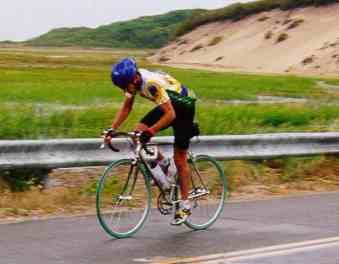 Here is a picture of Andy sprinting to the finish line. He does not start at such a ridiculously early time, and probably enjoys the day a little more. Thanks to his wife, Beth, for taking these photos.
Thanks again to all my sponsors who have given so much. Over the last 11 years I have raised about $50,000 through your generous support, and over $10,000 this year alone.

Chris Spear