Updated 7/15/22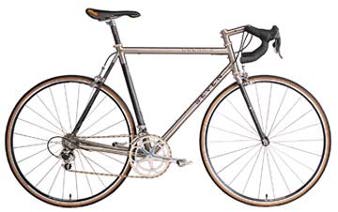 In 2001 I bought the bike that is the antithesis of my old Specialized M2 which was waaay too stiff. It is a Seven Cycles Odonata which is a term for dragonflies and damselflies. With titanium main tubes it is light, and carbon fiber seat tube and stays, it is very smooth riding. It was custom built, right down to the yellow decals. Best of all, the bike was paid for by the insurance settlement from my second crash. The result is a bike that won't beat me up over long distances. After my first century, the Climb to the Clouds, my body felt ready for more, even though my legs were pretty toasted.

I like to ride when I travel, and have used a Trico case to bring my bike to Singapore, Bali, Hawaii, Florida, San Francisco, and Los Angeles. Here I am after a 67 mile ride around northern Hawaii, from the Hilton Waikoloa Village to Havi, including a wonderful 13 mile climb by Parker ranch. Click to expand the picture.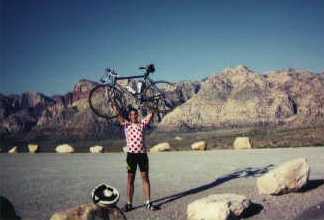 Here is a shot of me up in the mountains around Las Vegas during DAC '96. Far away from the glitter of the Strip is Red Rocks Canyon which has a fabulous 13 mile one-way road through some facinating geological layered cliffs. I woke up at 4:30am every day to do this ride. The tempatures were tolerable that time of day, as opposed to the 115 F degrees of mid-afternoon. The early morning rides has the extra benefit of keeping me away from the gambling at night.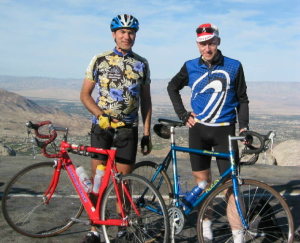 This is a shot of myself and Roger Ninane at Vista Point outside of Palm Springs. We stopped on our way down the 4000 ft. climb to admire the view, and so Roger could help me find my handlebars. Gee - they were on the other end of the bike the whole time. [December 2003] Click on photo to expand.

So, all that biking - what is it good for? Every year I ride the Pan-Mass Challenge a 200 mile ride for the Jimmy Fund. You can read my storyof the 2004 ride, or check out Andy's stories, a long time friend and fellow rider. I've been doing this ride since 1989, and have raised over $65,000 for the Dana-Farber Cancer Institute.

Biking in Batam
---
Home
SystemVerilog
PLI
Verilog
Verification
PMC
Emacs
Bike
Personal
Viewlogic
---