I was born near the Arctic Circle in Alaska, grew up in Anchorage, and have lived in Cocoa Beach, FL, Wellesley, MA, Ithaca NY (BSEE Cornell), and Madrid, Spain during the "transition" from dictatorship to democracy.


After college I worked on DECsim at Digital Equipment in the SEG/CAD group in Hudson, MA. That lasted until 1989 when mortgage payments forced me to look for a new job. I accepted a Field Application Engineer job with a small simulation company, Gateway Design Automation, but on the day I joined they merged with Cadence Design Systems. After too many reorganizations, I packed up and went to Viewlogic which was purchased by Synopsys in 1997.

Click on the thumbnails below to see the full size pictures.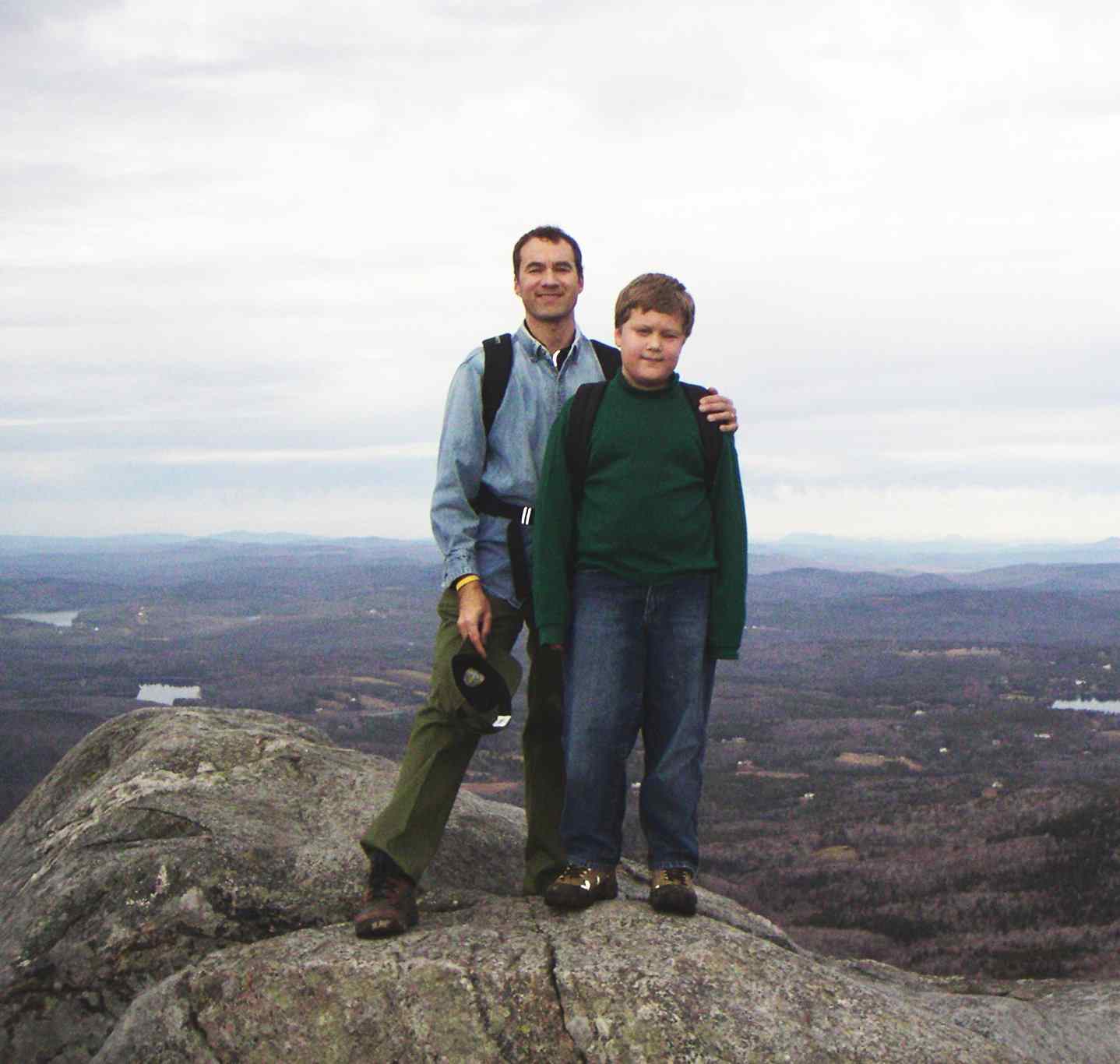 An important part of Scouting is getting outdoors. Tyler and I climbed Mount Monadnock in southern New Hampshire. It was a cold, cloudy day, with ice in the puddles, but we quite warm by the time we reached the summit.

In July 2006, Roger and I rode stage 11 of the Tour de France, which went over five mountain passes. The pros completed this in this in 6 hours, but it took us 3 days. This is a shot of Roger and me at the top of the biggest climb, Col du Tourmalet. Imagine the steepest road you have seen in the US. Now make it twice as steep, stretch it out for 10 miles. Throw in some fog, rain, donkeys, and lots of RV's ("camper cars") and you have an idea what we saw that first day. It was a extremely difficult climb, but the matching jackets helped.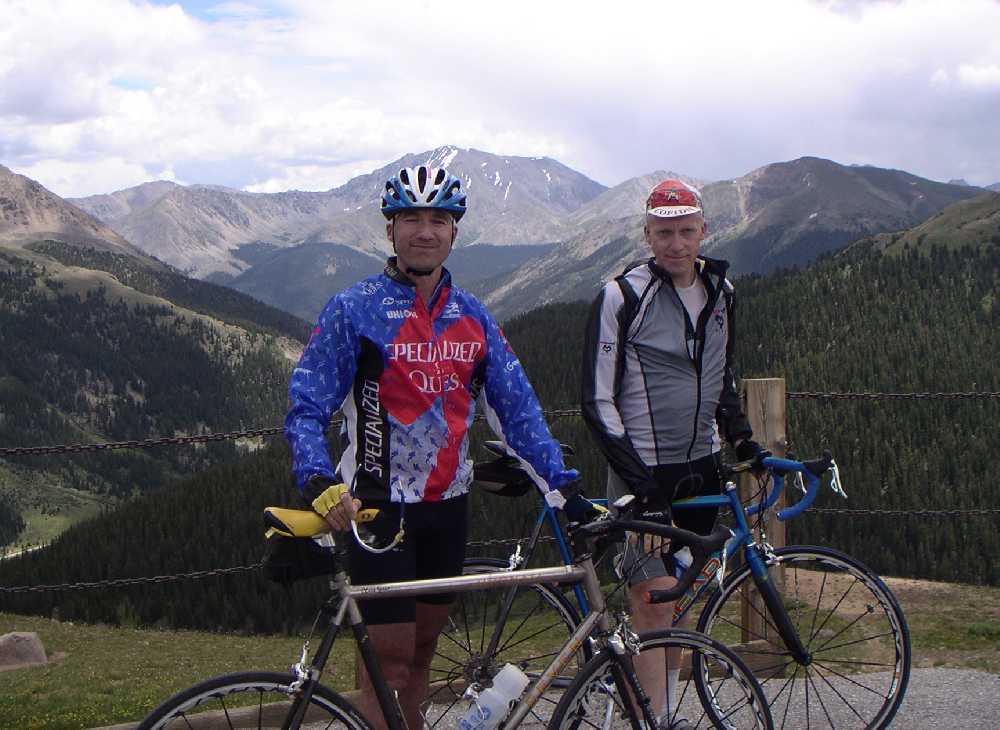 In the summer of 2004, Roger Ninane and I spent a week riding in the Rocky Mountains, climbing 7 passes. This photo was taken at the top of Independence Pass (12,000 ft.) near Leadville, Colorado, 7/29/04. The high point of the week (literally!) was biking up Mt. Evans, over 14,000 ft, though we cheated by starting from the 10,000 ft. The wind chill at the top was about 25F! The riding was actually not that hard as most roads were only 6% and I had extra low gearing. As long as I kept my heart rate out of the stratosphere, all I had to do was spin, like that classic from Yukon Cornellius, "Just put one foot in front of the other!" The descents were more challeging. Coming down Mt. Evans, I was shivering so badly I couldn't steer straight and had to stop several times. The best was from Loveland Pass back to Keystone. The road was so well paved and straight that 30mph was easy, 40mph took just a little pedalling, and I saw 47mph on a steeper section. My heart rate was higher on the way down than on the climb up!


In October, 2007, during a trip to Europe, I had a chance to bike in the Black Forest. I was visiting Thomson in Villigen, and met Volker, who took me for a 90km ride on German Reunification day through the beautiful towns such as Schonwald. We spent the afternoon with his family, relaxing at their home, and comparing Germany and the USA. Ironically, his son plays American football while my two children play soccer! Check out more pix.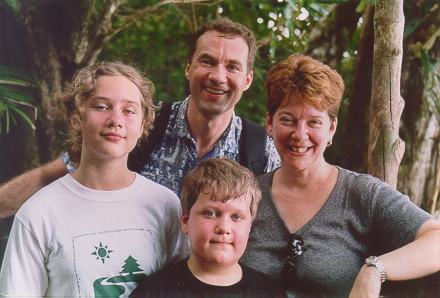 This is a shot of my family at the Manual Antonio National Park, in Quepos, Costa Rica. A guide led us through the rain forest on the edge of the Pacific ocean where we saw howler monkeys, crabs, bats, two-toed and three toes sloths, coatimundis, and white-faced capuchin monkeys. Whew! Of course the kids' favorite was the pool! [February 2004] Click on photo to expand.


Here is a great family shot that seems to be at some Spring event. Tyler must have just won second prize in a beauty contest.


My daughter Allie (Alexandra) is always merry. Caught here on film on a merry-go-round on Martha's Vineyard on a birthday trip.


Anyone who knows Tyler won't believe this picture. He always has his mouth open - making a joke, eating some pasta, laughing until we all crack up, or swallowing his "precious". He enjoys telling jokes but hates to travel. Sorry kid - but this family is always on the road.




Here are Tyler, Laura, and Allie in Washington D.C. for our spring vacation in 2002 Surprisingly, this was at the start of the vacation, not the end. The oppresive DC weather had already started to work its magic, turning us all into walking zombies. The rest of the week went better...


Here are the kids at the Air & Space Museum. Here the kids pose in front of the Lunar module. Their great-aunt Amy Spear lead the team at RCA that developed the radar for mankind's first extra-terrestrial craft.


Where's Ephrim Zimbalis Jr. when you need him? Here are the kids posing in front of the FBI building during our Spring Break trip. Never have so few had so much fun in so little time.


Here I am with Tyler and Allie sitting on or in the reflecting pool at the Hirschhorn Museum in Washington D.C.


Tyler is a Cub Scout - quite the rowdy bunch! Here he is with his buddies Zach and Andrew at a Lowell Spinners game. The announcer told everyone to "Scream!" so A and Z are showing off their tonsils.


Allie and I are real hams - in fact our whole family is! Here we show off for the camera at Easter dinner. The kid has my looks and my wife's personality.


See more pix on my wife's web page plus some shots of a spring 2004 trip to Penang, Malaysia.



Here I am on some of the newest land on Earth. This was taken at the Volcano National Park on the big island of Hawai'i. The lava beneath my feet was still cooling from recent eruptions. In the background you can see a cloud of steam and silica particles from the molton lava flowing into the Pacific. [December 2002, by Bruce Greene] Click on photo to expand.

Chris, Alex, and Bob on the steps of the Besakih Temple on Mt. Arun in Bali. We are wearing sari's out of respect for the temple. We just biked 40 miles up the side of the volcano through rice paddies, rain forest, and scenic villages. The return trip featured a great 20 mile downhill run - too bad it left us at the wrong village! [March 2003] Click on photo to expand.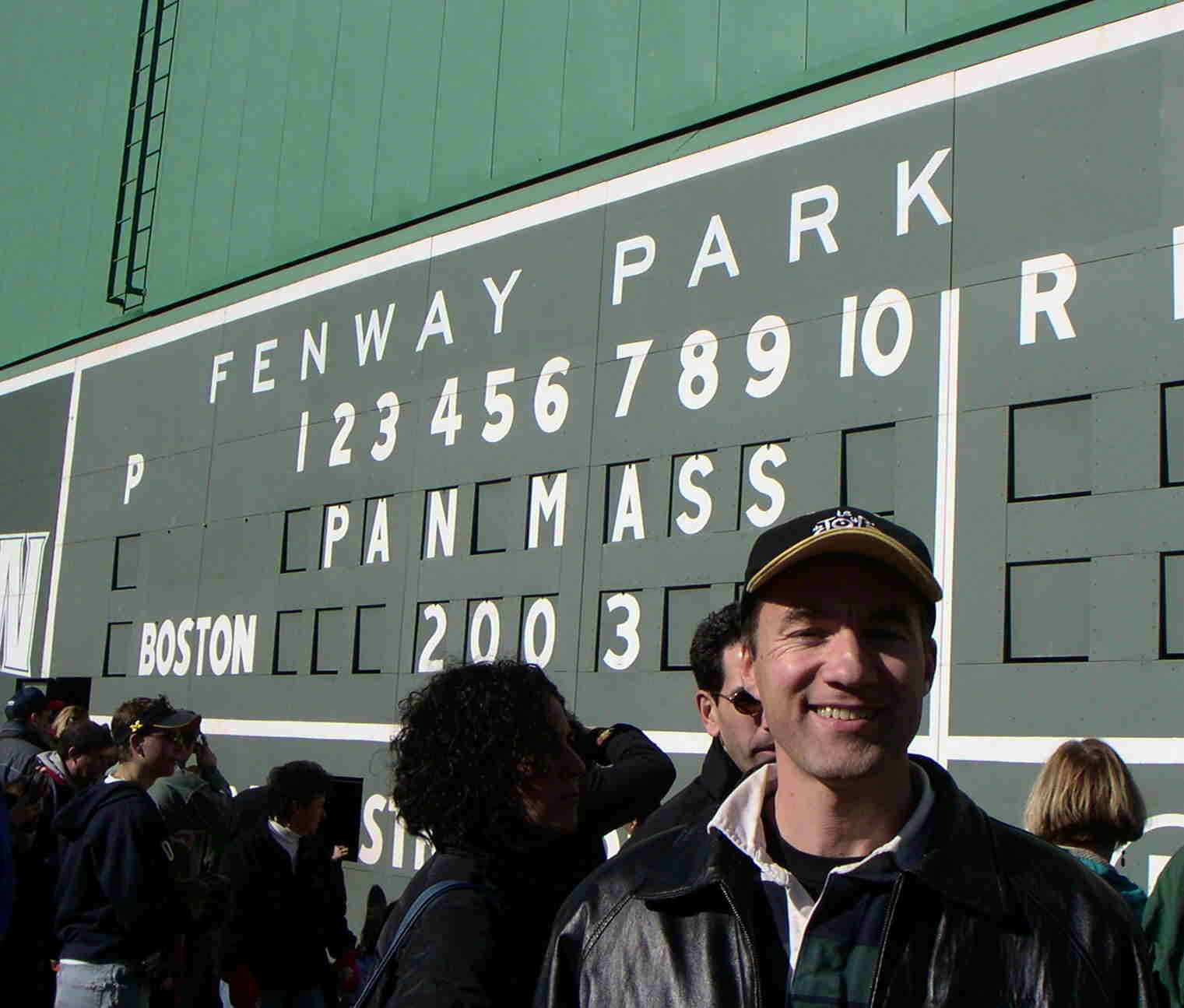 Here I am in front of the Green Monster at Fenway Park, home of the Boston Red Sox. The Pan-Mass Challenge was making its donation to the Jimmy Fund, and we got free access to the field. It was a beautiful fall day to see a $16 million dollar check. [November 2003] Click on photo to expand.

---
Home
SystemVerilog
PLI
Verilog
Verification
PMC
Emacs
Bike
Personal
Viewlogic
---